With 66 cross-linked Low Earth Orbit (LEO) satellites orbiting earth, Iridium is the only Satellite Communications company with true global coverage.
​
It provides voice and data services for several devices ranging from Satellite Phones, tracking devices, GPS, 2 way messengers, high end data and voice terminals.
With 2 or more satellites traveling overhead every 20 minutes, it provides the best service to Alaska despite the geography and terrain that represents a difficult challenge for standard telecommunications, here at Surveyors Exchange we sell Iridium services and devices almost exclusively due to their exceptional coverage and services.
​
Your safety and ability to remain connected while in a remote location is very important to us. With this in mind we feel Iridium with its robust coverage provides the best solutions for any needs.
Iridium provides the following services: voice, data, SMS, email, internet, M2M, SBD, burst data, weather and more.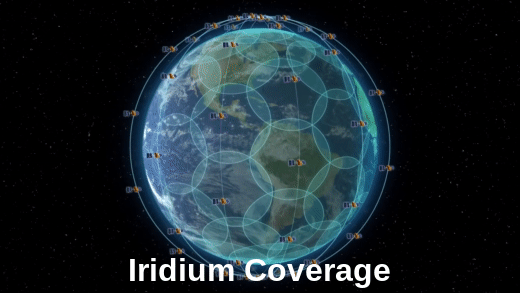 Iridium completed a multi-year constellation upgrade in early 2019, replacing all its 66 LEO satellites and upgrading the supporting ground infrastructure.
​
Thanks to this Iridium has now added new services that are now available. Iridium Certus is the new service platform that provides more than just connectivity – it is a portfolio of ever-expanding service offerings that will allow customers to operate more efficiently by providing more value and coverage than any other satellite operator.
​
With a range of speeds eventually up to 1.4 megabits per second the network supports an innovative portfolio of products that satisfy a wide-ranging set of maritime, aviation and land mobile communications.
​
Building on an already powerful network, Iridium NEXT dramatically enhances Iridium's ability to meet the growing demand for global mobile communications on land, at sea and in the skies. The flexibility of the Iridium network enables customers to create innovative products and solutions that meet emerging and future market needs. Iridium NEXT:
​
• Supports increased bandwidth and higher speeds for new products
• Enables exponential growth of customer solution development
• Backwards compatibility provides service continuity for existing products
• Support Aireon's aircraft tracking service as well as other hosted payload missions
​